11 reasons to enjoy Eric's peanut butter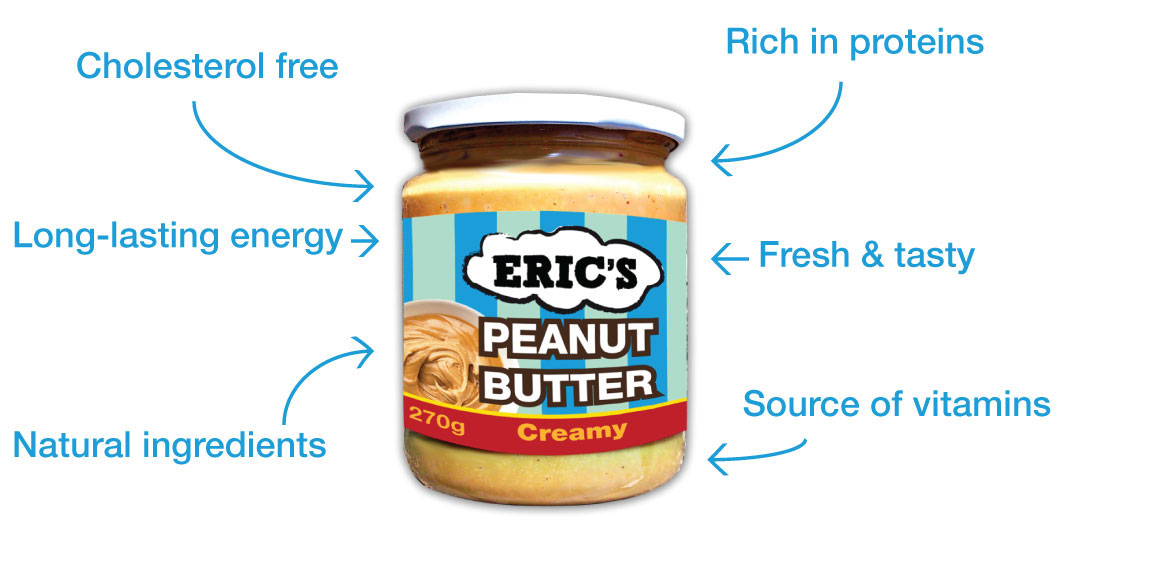 1) All-natural ingredients
Eric's peanut butter is simply good for your health. To make it we only use the best dry-roasted peanuts, tasty honey, a tiny bit of salt and a little sunflower oil.
Eric's Peanut Butter is:
- Cholesterol free
- Palm oil-free
- Additives free
Ingredients in a 270gr jar:
2) A fresh product
To ensure our peanut butter remains fresh and tasty we only work on demand and produce small batches at a time.
3) "A handful of nuts a day keeps the doctor away"
Many scientific studies have shown that eating a handful of peanuts every day (such as peanut butter) reduces the risk of cardiovascular diseases or type 2 diabetes.
4) A source of protein
Two spoons full of Eric's peanut butter contain up to 7gr of protein. One will also profit from a satiety effect and thus eat less, snack less. This is why it is good to have some of Eric's peanut butter in the morning. It will hold throughout the day.
Peanut butter is also a fantastic food to recover after long strenuous effort.
5) Good for the heart
According to a medical study issued by the Harvard Medical School, peanut butter is good for strengthening one's heart.
6) More potassium
Peanut butter is a great source of potassium, known to counter the negative effects of salt on the body. it is also a very important mineral for the proper function of all cells, tissues, and organs in the human body.
7) Good fat
The fat found in Eric's peanut butter is the good unsaturated fat.
8) Energy booster
Peanut butter is full of good calories which will bring you the necessary energy to sustain an active life.
9) Rich in fibers
2 spoons full of Eric's peanut butter will bring you essential fibers.
10) Loose weight
Eric's peanut butter is an appetite suppressant. Thanks to the proteins and fibers contained in Eric's peanut butter it will create a satiety effect. Your stomach will feel fuller and you will be less likely to eat or snack.
Discover now Eric's Peanut Butter in our Online Shop
Follow @Ericspeanuts on Instagram, & Facebook!